User Roles are a way for WordPress to keep track of who can do what on your website. OnList Directory and Listing script uses the built-in WordPress role attributes. So if you are familiar with WP then this should be easy to do. If not then here you go:
From the Admin page go to Settings > General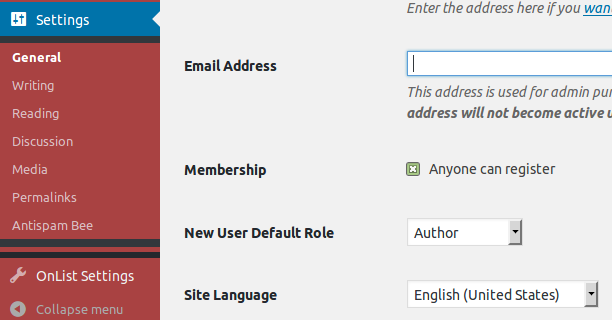 Be sure to add Anyone Can Register – or no one will be able to register.
By default, WP uses Subscriber as the Default Role. You will want to set OnList User Roles to Author. This will allow any new registered person to add a Listing.
To prevent spam registration, use the User Role of Subscriber or Contributor. You will have to manually approve each new User but will have more control this way.
You may choose to shut off Anyone Can Register and install a Membership plugin.
If you only have a single user or team using the OnList plugin you may choose to turn off membership altogether.