Set # of listings on home page.
Set # characters in excerpt
Set the height of excerpt box
Set text for listing link.
Text for link to listing.
Set height of thumbnail.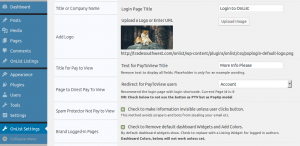 Check to use default USA States.
Leave Un-Checked to create your own.
Check to Remove Maps from Site.
Set width of map on page
Set height of map on page
Check to Show Ratings View.
Enter text for above rating form
Login Page Title
Upload a Logo or Enter URL
Title for Pay to View
Text for PayToView Title
Page to Direct Pay To View
Redirect for PayToView users list all pages
Recommend the login page with login shortcode. Current Page Id is: 8
OR: Check below to not use the button as PTV but as PopUp modal
Spam Protector Not Pay to View
Check to make information invisible unless user clicks button.
This method avoids scrapers and bots from stealing your email etc.
Brand Logged-In Pages
Check to Remove default dashboard Widgets and Add Colors.
By default dashboard widgets show. Check to replace with a Listing Widget for logged in authors.
Dashboard Colors, below, will not work unless set.