Open Source Saves You Money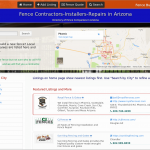 Larry has many available Open source programs on SourceForge.net and many live Themes on WordPress.org as well as business and personal websites all over the world.
Skill sets most focussed on currently:
HTML[5], CSS[3], PHP, MySQL, PDO
Java, CMS, (WordPress, Custom…) CRM, eCommerce
eMail Marketing, Real Estate IDX, Forms
Business Portals, Document Management, Databases, writing scripts, design and deploy websites
My programming skills become your business advantage. Every business needs Internet presence. I can get you online and presented to the public in a beautiful and useful manner. The site I build for you will not only look good but it will also be manageable by you if you so choose. I build about three to four large websites a month so you can be assured that having Trade Southwest build and deploy your site is an optimal choice as the time spent on your project is personal and productive. Databases to social media. Trade Southwest does it all.
---
---